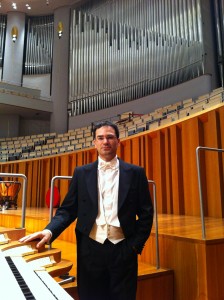 Website:
https://sites.google.com/site/bonoldilorenzo/
Lorenzo Bonoldi was born in 1977 in Bozzolo. (Lombardy region, Italy)
After studies at the Milan Conservatory, in 1998 he graduated in the class of Giancarlo Parodi in Organ and organ composition as well as Edoardo Filus and Hans Fazzari in piano. He has attended various masterclasses, studying with Daniel Roth, Lorenzo Ghielmi, Giancarlo Parodi and Klemens Schnorr and he also studied with interest organ improvisation and composition. (in the class of Giuseppe Colardo) After the courses of organ improvisation with Stefano Rattini and Fausto Caporali, he continued his studies of harmony and improvisation with Pierre Pincemaille in Paris.
Since 2008 he is officially the titular organist of the Teatro alla Scala in Milan. He also serves as organist of the great organ "Bonato 2013" of S. Anastasia church in Villasanta (Monza) and organist at the Basilica of San Carlo al Corso, Milan.
YouTube Channel:
https://www.youtube.com/user/lorbo77
Videos:
Lorenzo Bonoldi – Intermezzo on Attende Domine – Basilica di San Carlo, Milano
Lorenzo Bonoldi – Toccata, Adagio e Finale on Attende Domine – Basilica di San Carlo, Milano
Lorenzo Bonoldi – 5 Versetti on Ave Maris Stella – Basilica di San Carlo, Milano
Lorenzo Bonoldi – Versetti on Victimae Paschali Laudes – Basilica di San Carlo, Milano