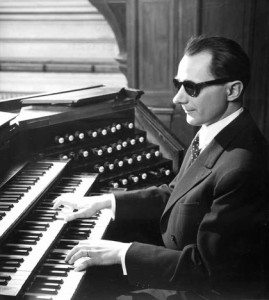 Association Gaston Litaize:
http://www.gastonlitaize.com/
Gaston Litaize (1909 – 1991) was a French organist and composer. An illness caused him to lose his sight just after birth. He entered the Institute for the Blind in Nancy, studying with Charles Magin. Magin encouraged him to continue studies in Paris at the Institut National des Jeunes Aveugles. Litaize enrolled concurrently there and at the Paris Conservatory. His teachers in Paris included Adolphe Marty, Marcel Dupré, Henri Büsser, and Louis Vierne.
In 1939, Litaize became organist at Saint-Cloud, and in 1944 he became director of religious radio programs, overseeing five weekly broadcasts. In 1946, Litaize became organist titulaire at Saint‑François‑Xavier, a post he held until his death. When he retired from the radio in 1975, he became the organ teacher at the Conservatoire in St Maur-des-Fossés. His students there included Denis Comtet, Olivier Latry, Eric Lebrun, and Christophe Mantoux.
Litaize made numerous recordings, some of which have been reissued. He also was very active as a composer. A complete list of his compositions is available here. Olivier Latry has even transcribed and published one of Litaize's improvisations
.
Biography:


Gaston Litaize by Sébastien Durand

This book is in French.

Fantaisie et Fugue sur le nom de Gaston Litaize

Alain Litaize
This book is in French and includes an audio CD with unpublished works and improvisations of Gaston Litaize.
Recordings:


Gaston Litaize: Organ

Includes an improvisation on Victinmae paschali laudes.

Gaston Litaize: Récital de Son 80 Anniversaire

Includes Litaize playing some of his own compositions and an improvisation.

Gaston Litaize e Guy Bovet: All'organo di Carasso (Ticino)

Includes repertoire played by Gaston Litaize and Guy Bovet as well as an improvisation by each of the organists.

Litaize plays Litaize
Gaston Litaize plays his own works on the 1979 Winfried Albiez (Lindau / Lake Constance) organ located in the gallery of the Church of St. Mary in Kempen, Germany as well as three improvisations. Available through OHS.