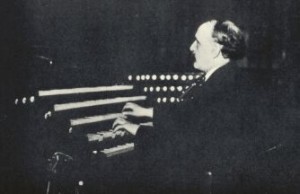 Louis Vierne (1870 – 1937) is best known as a composer and organist at Notre Dame in Paris, France. He was born in Poitiers, nearly blind due to congenital cataracts, but was discoverd at an early age to have a gift for music: at age two, a pianist played him a Schubert lullaby and he promptly began to pick out the notes of the lullaby on the piano.
After completing school in the provinces, Louis Vierne entered the Paris Conservatory. From 1892, Vierne served as an assistant to the organist Charles-Marie Widor at the church of Saint-Sulpice in Paris. Vierne subsequently became principal organist at the cathedral of Notre-Dame de Paris, a post he held from 1900 until his death (while performing a concert) in 1937. Though he held one of the most prestigious organ posts in France, the Notre-Dame organ was in a state of disrepair throughout much of his tenure. To raise money for its restoration, he undertook a concert tour of North America including a performance on the famous Wanamaker Organ in Philadelphia. Some of his students include Augustin Barié, Edward Shippen Barnes, Lili Boulanger, Nadia Boulanger, Marcel Dupré, André Fleury, Gaston Litaize, Édouard Mignan, Alexander Schreiner, and Georges-Émile Tanguay.
Vierne made phonograph recordings of six works of Bach, three of his own compositions and three improvisations. Originally recorded by Odéon, they were reissued most recently by EMI in 1981 with two of the improvisations appearing again in 1994. Maurice Duruflé transcribed the improvisations as he had done with the recordings of Charles Tournemire.
Biography:


Louis Vierne: Organist of Notre Dame Cathedral

by Rollin Smith, Pendragon Press, 2009.
Vidoes:
Recorded in 1929, there is some noise in the audio on these video, but I believe they are worth sharing because it is Vierne himself improvising.
Louis Vierne – Marche Episcopale – Notre Dame, Paris
Louis Vierne – Meditation – Notre Dame, Paris
Louis Vierne – Cortege – Notre Dame, Paris
and while it isn't an improvisation, there is a short video of Louis Vierne playing at Notre Dame here.