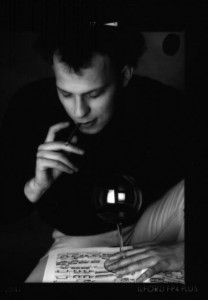 Website:
http://www.joergabbing.de/
Born in 1969 in Duisburg, Jörg Abbing began studies in piano and composition with erste Alexander Meyer in Bremen and organ with Günter Eumann. He then studied church music, organ playing and musicology in Düsseldorf and Saarbrücken where his teachers included Almut Rößler and Volker Hempfling. He also studied organ with Gaston Litaize. He also studied privately in Paris with André Isoir, and Naji Hakim.
Since 1995, he has served as Kantor and Organist at the Ev.Stiftskirche St. Arnual in Saarbrücken. He also teaches liturgical organ playing and improvisation at the Hochschule für Musik Saar in Saarbrücken. He has written biographies on Maurice Duruflé and Jean Guillou.
Recording:
Symphonische Orgelimprovisationen
IFO-Verlag, Saarbrücken: 1998.
Videos:
Jörg Abbing – Improvisation (Intermezzo) – Saarbrücken
Jörg Abbing – Improvisation – St Matthias Kirche, Berlin