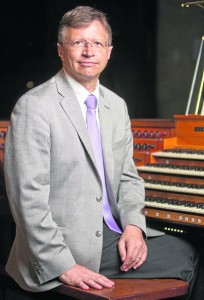 Website:
http://www.domorganist-stoiber.de/
Franz Josef Stoiber is a renowned organist and teacher of improvisation. He has been organist of St. Peter's Cathedral in Regensburg since 1996, and was appointed as full-time professor for organ and improvisation at Regensburg University in 2003. He studied with Jon Laukvik in Stuttgart and Peter Planyavsky in Vienna. He is very active as a concert organist and lecturer, and has made many CDs. He was recently involved in the design of the ground-breaking new organ in Regensburg Cathedral.
He will teach courses in improvisation in London and Regensburg during the summer of 2014.


Book:


Gehörbildung, Tonsatz, Improvisation

This book is in German.
Recordings:
Orgelmusik aus dem Regensburger Dom – Works by Reger, Renner and Improvisations (1999), IFO-records, Mainz
Glocken und Orgelimprovisationen im Hohen Dom zu Regensburg – (2002). Motette CD 12561
Orgelimprovisationen – Weihnachten. Göckel-Orgel in St. Peter zu Düsseldorf (2005). ORGANpromotion, Sulz am Neckar
Die Regensburger Domorgel – Works by Bach, Renner, Dupré and Improvisations – Rieger organ (2010). Motette 13791
Die Orgeln der Hochschule für katholische Kirchenmusik und Musikpädagogik Regensburg – Improvisation on "Lobe den Herren" and the Gregorian Antiphon "Cantantibus organis Caecilia Domino decantabat" (2010). HfKM, Regensburg
"Alles meinem Gott zu Ehren" – Works by Bach, Mozart, Mendelssohn and Improvisations – Kögler organ in the Stadtpfarrkirche St. Laurentius in Neustadt a.d. Donau (2013). Ambiente Audio
Glocken- und Orgelklänge aus dem Regensburger Dom – Improvisations on the Rieger organ (2013). Motette 50931
Videos:
Franz Josef Stoiber – Suite francaise – Regensburger Domorgel
Hommage à Nicolas de Grigny (Plain jeu – Duo – Trio – Basse de Crommorne – Recit de Nazard – Grands Jeux) on Nun lobet Gott im hohen Thron