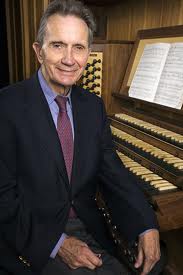 Gerre Hancock is best known for his service as Organist and Master of the Choristers at Saint Thomas Church Fifth Avenue in New York City from 1971 to 2004.
Full bio. You can hear him on Spotify.


Book:


Improvising: How to Master the Art

Oxford University Press
One of the most recent essential method books from a master teacher!
Recordings:


Gerre Hancock: Fanfare

Also Available as an mp3 download

Gerre Hancock: Christmas Improvisations

On a sunday afternon: Gerre Hancock Live at Washington National Cathedral

Great Hymns Of Faith

University Of Texas Chamber Singers under the direction of James Morrow
Gerre Hancock provides fabulous improvised hymn accompaniments, interludes, and free improvisations based upon hymn tunes on the Visser-Rowland at the University of Texas at Austin.
Videos:
Doxology October 6, 2002- St. Thomas
Final hymn and improvised Organ Voluntary on 'Gott sei Dank' – May 18, 2003 – St. Thomas
Improvised versets on the Magnificat Solemn Tone – April 4, 2004 – St. Thomas