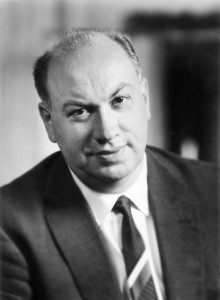 Anton Heiller (1923 – 1979) was an Austrian organist, harpsichordist, composer, and conductor. Born in Vienna, he was first trained in church music by Wilhelm Mück, organist of Vienna's Stephansdom with further study at the Vienna Academy of Music under Bruno Seidlhofer and Friedrich Reidinger. In 1945, he both graduated from the Academy and was appointed organ teacher there. He was promoted to professor in 1957. In 1952 he won the International Organ Competition in Haarlem, The Netherlands. His students include Yuko Hayashi, Bernard Lagacé, Peter Planyavsky, Michael Radulescu, Christa Rakich, Christa Rumsey, David Sanger, and Jean-Claude Zehnder.


Biography:


Anton Heiller: Organist, Composer, Conductor

by Peter Planyavsky and Christa Rumsey
Eastman Studies in Music, University of Rochester Press (November 1, 2014)
Audio:
Heiller's performances as a competitor in the 1953 Haarlem Improvisation Competition can be heard at the NCRV archive here.